Closed Day Checker for Windows Version 1.0
This is a database software for Osaka Nippombashi electoronics stores. Closed Day Checker Version 1.0 is converted to running on Windows operating system. It has 282 stores data, you can search stores by name, closed day, etc.. As additional function from older release, it has printing function, online help.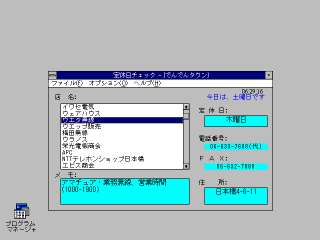 Operating system:

Microsoft Windows 3.x (Microsoft Windows 95/98, NT 4.0 Workstation)

Disk space:

1MB

Other:

Japanese language input system, pointing device such as mouse
User's guide
It describes install method and usage (only Japanese).
(Released at 1996/1/17)