Yoiko Kansen R1J
It is a game guessing Kanji hidden by panels. I memorize that similar TV quiz program had existed (The title may be Reikan Yamakan Dai-6-kan).
Kanjis that learned at elementary school and Kanjis for personal name are questioned. You can select questionare range in the configuration panel.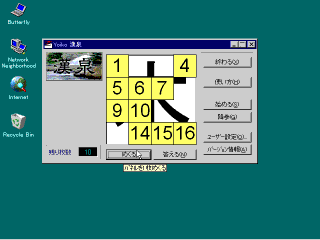 Operating system:

Microsoft Windows 95/98 (Microsoft Windows NT 4.0 Workstation)

Disk:

3MB

Other:

Japanese language input system, pointing device such as mouse
Download
You can download program.
Program
(Released at 1997/9/26)