Yoiko PONS 98
Yoiko PONS 98 is a database software for Osaka Nippombashi electoronics stores. It contains a data (inludes photos) most of electoronics stores operating in Nippombnashi. You can get the most efficient route for rounding by result of your search condition.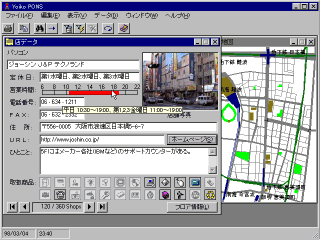 Operating system:

Microsoft Windows 95/98 (Microsoft Windows NT 4.0 Workstation)

Disk:

6MB

Other:

Japanese language input system, pointing device such as mouse
Download
You can download document.
Program
The program is not open to the public currently because it has an old data.
User's guide
It describes install method and usage (only Japanese).
(Released at 1998/2/23)