Overview
When using train, passengers purchase tickets. Tickets are checked by railway staff at boarding train in station. Also tickets are checked and collected by railway staff at exiting from station. Automatic ticket checker (gate) mechanize checking and collecting tickets.
Many of automatic ticket checkers are installed in the station of railway. Machines that have same function also can be seen in museum and airport etc.. And then the same style is used as a security gate in office entrance in nowadays.
Currently, about 28,000 machines are used at station in Japan.
History
An automation of the station service
An automation of selling tickets began early (from the end of the Meiji). However an automation of checking and collecting tickets took long times because the works is complex. It was put to practical use in the end of the 1960s.
Early in the Showa, the machine which has a turn style had been used by Osaka and Tokyo subway (the photos is the exhibition material of the subway museum). If a coin is thrown in, the gate permits to pass one person at a time. It was limited use under the flat-rate system. So the work of checking and collection tickets wasn't automated perfectly.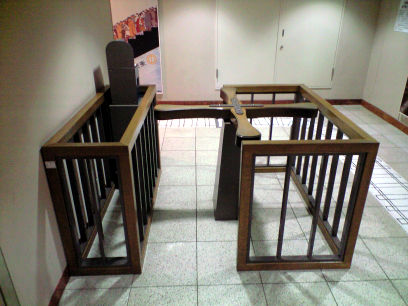 Research for an automation
In high economic growth period, a passenger in an urban area was increased and a ticket gate in stations was very crowded. Research of ticket gate automation was started from the 1960s as the correspondence.
Research by Tateishi Denki (at present OMRON)
A joint research with Kintetsu was performed from 1964. They developed test machine and tried to use by employee of Kintetsu in the Abenobashi station. Detecting method passenger who pass the machine and the conveyance module in the machine were improved by trial use. But, an actual use was postponed because the Kintetsu had exchange gate to the JNR.
(Reference: THE RAILWAY PICTORIAL #727 "Developping automatic ticket gate system")
Research by NIPPON SIGNAL
In 1965, the NIPPON SIGNAL had contacted to the Advance Data System (ADS) that is a company in the United States. Because the ADS came to Japan for promotion of an automatic ticket gate. A technical cooperation was signed between two companies in 1967. The department of an automatic ticket checker was organized in the the NIPPON SIGNAL. And a test machine was made in 1968.
(Reference: 50 years of the NIPPON SIGNAL)
Trial
Machines were tested for actual use at the Tokyu in 1966, and at the JNR in 1970.
Actual use
A practical use started at the Keihanshin-kyuko (at present Hankyu) Kita-senri station in March 1967. The Tateishi Denki's machines was installed in there.
At the TOKYO MONORAIL, the KINTETSU, Sapporo City Transportation Bureau etc. started to use in 1969 and afterwards.
The spread of an automatic ticket checker didn't progress easily in Kanto area because there was complex railway network. However, when the East Japan Railway decided to start using in 1990, an automation was spreaded at a stretch.
Current
IC card ticket and pass is increasing. An automatic ticket checker had been processing only magnetic tickets so far. Nowadays the style of an automatic ticket checker is changing to an appearance of machine for only IC card through the magnetic/IC machines and QR code machines.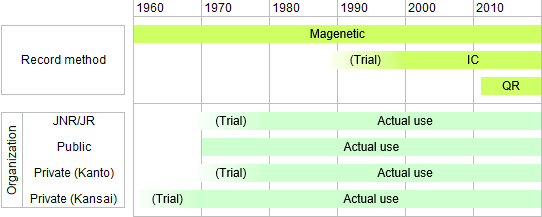 Exterior
There are some styles, but generally machine is arranged on both sides of a pathway and person passes through this way. For details, I explain in another page.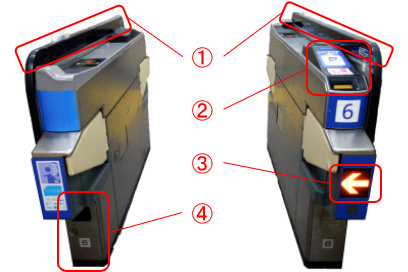 (1) Bar

To detect passenger by using infra red

(2) Catcher, IC card antenna

Throw your ticket in this catcher, or touch your IC card

(3) Course display

Leading passengers to pathway

(4) Box

Collecting used tickets into this box
Price
The price seems to be about millions of yen in the single functional type only dealing with a magnetic ticket. In latest machines which have multi function(Magnetic ticket and IC card)are priced 10 million yen or more.
The concrete price of Toshiba's machine is displayed in web page (http://www.g-mark.org).
| Model | Ticket type | Price | Delivered to |
| --- | --- | --- | --- |
| EG-800 | Magnetic | 5,000,000 yen | Hankyu Corporation |
| EG-1100JE | Magnetic | 10,000,000 - 20,000,000 yen | Central Japan Railway Company(Shinkansen) |
| EG-3000 | Magnetic, IC | Open price | Central Japan Railway Company(Shinkansen) |