TrackWrite
TrackWrite is a separatable keyboard which is used by ThinkPad 701 series. It was developed to solve problems that minimize size of footprint and supply full-sized keyboard.
The mechanism is complicated and the cost seems to be high. So TrackWrite is only used by ThinkPad 701 series.
The following video is a movement of TrackWrite keyboard when open and close display.
If a display is opened, a keyboard will expand little by little and full-sized keyboard will appear finally.
Expansion of keyboard
The keyboard is divided in the portion of a red line.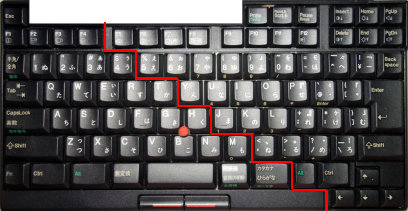 | | |
| --- | --- |
| | When display is closed, the keyboard is housed as follows. |
| | When display is opened, the keyboard moves as follows. |
| | Finally, the keyboard is expanded to full-size. In this situation, we can't be aware of that the keyboard is separatable. |
Other photos
There are some photos which are taken by other viewpoints.