Review
Now I write an impression about my ThinkPad 701C.
Package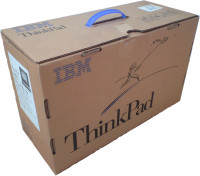 Butterfly is in this box. ThinkPad is tightly protected by large urethane.
Product map
In the box, there is a big sheet that called "Product map". You can check whether there is any missing item by using it.
Diskette drive (3-modes)
AC adaptor
MultiPort II
Parallel port cable
Diskette drive cable
ThinkPad 701C
Battery pack
User's guide
Supplements
Exterior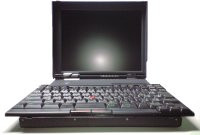 ThinkPad 701C has characteristic in a large display which filled box and protruded keyboard. Color LCD was expensive in those days. Low-priced DSTN color LCD was existed, but I selected a TFT color LCD. If only the resolution has been a little large (800x600 pixels or more).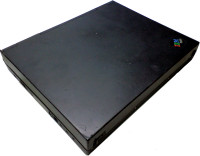 When the display is closed, the keyboard is stored into a body and become compact. Although some interfaces are in the side, its design is very smart. I felt tgat the surface is moist rather than smooth.
Front

On top of diplay, latches exist. The small dots are screwhead. You can open this screw by using TORX T1 screwdriver.
Left side

On left side, power jack, power switch, parallel/diskette drive connector, modem and audio jack exist.
Right side

On right side, battery pack, hard disk drive, PCMCIA access port and Kensington slot exist.
Rear

When the docking door is opened, we can see the system expansion connector.
Keyboard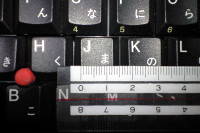 One of characteristic point of ThinkPad 701C is its keyboard. A key pitch is 19mm. This key isn't small, so it's easy to use and is comfortable. But a key touch is soft for me, and isn't my liking. And when we are punching keys at both ends, the keyboard is bent a little.
TrackPoint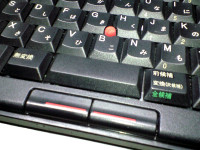 ThinkPad 701C has the TrackPoint as a pointing device. Touchpad device is major now. But I choice the TrackPoint because it need not off my hands from a keyboard.
Performance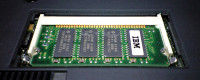 The CPU is DX4 75MHz, the memory size is 24MB (after adding). It had sufficient power at the time.
Hard disk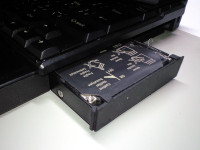 Hard disk drive is removable. I replaced to 2.1GB hard disk drive later. I used a disk case that called ThinkPak.
Battery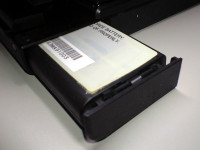 The capacity of NiMH battery is 2,000mAh. Although I had few opportunity using it by only battery, I didn't feel that battery capacity is short. 10 years or more have passed, an inner substance is leaking out now.
Interfaces
Parallel/Diskette drive connector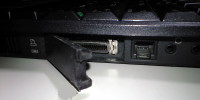 This connector cover is hard rubber and difficult to open/close. When the keyboard is expanded, we are difficult to access it because this connector is hidden by keyboard.
PCMCIA access port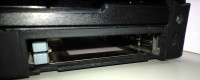 Buttons for ejecting are in the inner part. So it's difficult to take out inserted PC cards.
Power switch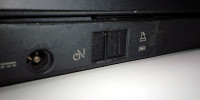 The power switch is beside the parallel/Diskette drive connector. At the beginning, a spring of the power switch was hard. But, it becomes soft while using it.