Technique
When you have started travels for postal savings, you surely think that you want to round lots of post offices in short time. Here, I introduce a efficient method for rounding post offices.
Preparation
To round lots of post offices, at first you should investigate location of post office and determine a route.
How to investigate location of post office
Let determine target area. For example, if you use a train, an area was fixed along the railroad line. In other case, if you use a bicycle, an area might be fixed in a city. When an area has been fixed, next you create a list of post office.
You can investigate the location of post office on the internet. It is better to check the page of opening or closing information. Because post office may be closed temporarily or may be moved other location. The location information on the map of post office may be rarely wrong. You should not overestimate the information.
Creating a route for rounding
When you have listed post offices you wanna visit, next you determine an order for rounding. Basically the route is from near post office to far one. You make a plan you visit the first post office at 9 a.m., and visit last post office at 4 p.m..
In case you use a train, it's important that take account of timetable. The numbers of trains may be few by line.
Belongings
Obviously the passbook is required. ;-) Additionally it's good preparing application form for savings in advance. If you fill out the form, you can round post offices smoothly. Prepare small money, too. Then the list of post offices you created should be also prepared. In my case, I used to print the list on papers. But nowadays I'm viewing digitized list on mobile devices.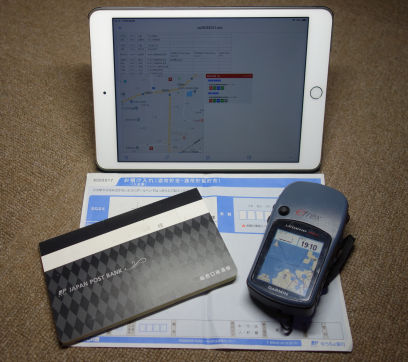 The day of rounding
The day of rounding post offices is came. If ready, you have only to round according the plan. However, using a handy gadget may help you to round more quickly.
Finding post offices
You search the post office by using map prepared in advance. You can find post office easily if it's on a high street. But post office has been built in a side street, it may be difficult to find. Make the most of the map which exists in the local.
In my case, I use a handheld GPS for assist. If the position of post offices are inputted into this device, we don't get lost on the way to post office.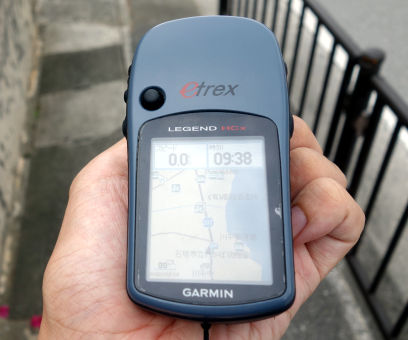 Putting money
When you arrived at target post office, you should take a number before filling out application form (some post offices don't use number tickets). Such as the end of month or begin of month or weekend, the counter is crowded. In every post office, you try to reduce the time for staying.
After savings
Before going next post office, you should check the passbook whether the stamp was put. If you mind passbook is stained with the ink, you may insert tissue paper.